The holidays are here, which means it's time to start meal planning. We've put together a great list of our favorite holiday recipes that don't sacrifice anything when it comes to flavor and your gut health.
How can I be healthy on Thanksgiving? You can be healthy on Thanksgiving by starting the day off with some exercise, keeping yourself from overeating, and incorporating healthy Thanksgiving recipes.
Many of the classics are available in lightened-up versions, so you can keep everyone at the table healthy and happy.
What are some healthy Thanksgiving recipes? Some healthy Thanksgiving recipes are dairy-free soups and dips, sides big on roasted vegetables, and mains that focus on all-natural ingredients.
These recipes avoid the top inflammatory foods with options that are gluten-free, dairy-free, and paleo-friendly. The good news is, they all taste great, too.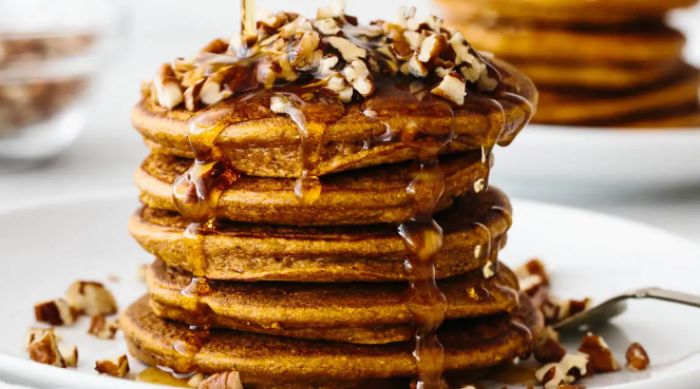 Breakfast Foods
You don't need to sacrifice breakfast for the big meal ahead. Stop stomach growling with these festive breakfast recipes.
Paleo Pumpkin Pancakes: Add an autumnal spin to your classic pancake recipe.
Grain-Free Pumpkin Granola: Real maple syrup sweetens up this healthy breakfast.
Fall Frittata: This savory frittata is gluten-free, low-carb, and easily adjustable if you're vegetarian.
Air Fryer GF French Toast Sticks: This clean treat is perfect for families with kids.
Lox + Almond "Cream Cheese" Sheet Pan: Almond milk cream cheese replaces dairy but not the classic flavors.
Scrambled Eggs with Smoked Salmon: This protein-rich egg dish is a beautiful plate of food.
Sausage + Squash Frittata: Start your day off in a savory way with this keto-friendly frittata.
Avocado Toast 3 Ways: Top roasted sweet potatoes with a variety of delicious ingredients like dates and smoked salmon.
Grain-Free Coffee Cake: A combo of almond and coconut flours keep the texture just right in this low-carb treat.
Grain-Free Spinach Quiche: Make this one ahead of time for less to do Thanksgiving morning. You don't want the effects of stress ruining your day.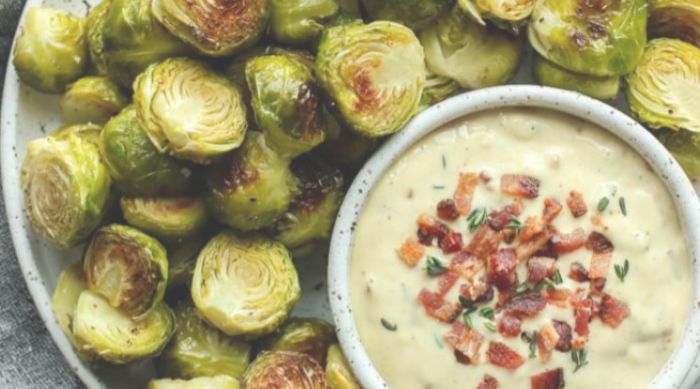 Appetizers
Plan a few of these light Thanksgiving appetizers to give guests something healthy to nosh on while they wait for the big event.
Brussels Sprouts with Bacon Aioli: Enjoy your favorite dipping vegetable with this Brussels sprouts recipe.
Paleo Muffins: Savory herbs sweetened with maple syrup make the perfect afternoon snack.
Stuffed Mushrooms: These mushroom caps come with fall flavors like sage and pecans.
Dairy-Free Cheese Ball: The retro classic is usually a blend of cream cheese with feta, goat cheese, or other dairy options. Use cashews instead so everyone can enjoy it.
Cauliflower Hummus: This simple recipe subs cauliflower for chickpeas for a paleo-friendly dip.
Prosciutto Wrapped Asparagus: Elevate an asparagus platter by wrapping stalks in paleo-friendly prosciutto.
Bacon Wrapped Olives: Three simple ingredients come together for a very poppable app.
Cranberry Turkey Meatballs: These sweet and spicy meatballs are perfect throughout the holiday season.
Dairy-Free Spinach + Artichoke Dip: Cashew cream keeps the texture on this dip nice and creamy.
AIP Smoked Salmon Dip: This one meets Autoimmune Protocol standards to keep you feeling good.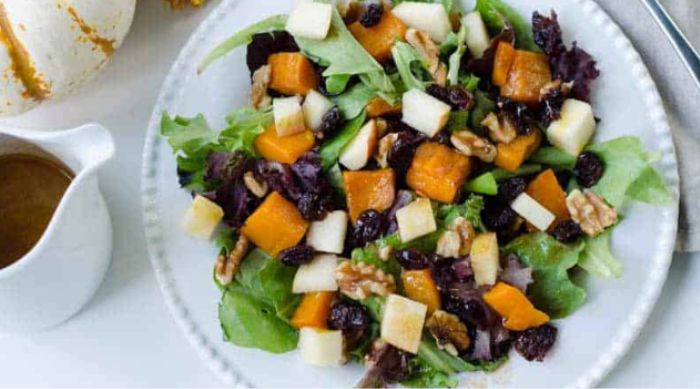 Salads
Salad recipes are often underappreciated at the Thanksgiving dinner table, but our favorites can stand on their own.
Salad with Cinnamon Cider Dressing: This one is described as a "fall bliss" salad, and we'll have to agree.
Kale + Bacon Salad: Pastured bacon and grass-fed ghee keep this hearty kale salad clean and paleo-friendly.
Spicy Cauliflower Salad: Red pepper flakes add a little heat to your Thanksgiving meal.
Salad with Creamy Pumpkin Dressing: Bump up the pumpkin flavors with a salad topped with a creamy pumpkin dressing.
Fall Salad: This Brussels sprouts salad adds texture and crunch with thinly sliced red cabbage and apples.
Salad with Pomegranate Ginger Dressing: Pomegranate arils and a hint of pumpkin spice come together in the perfect fall salad.
Arugula + Apple Salad: Tart cranberry vinaigrette acts as a refreshing palate cleanser before the main meal.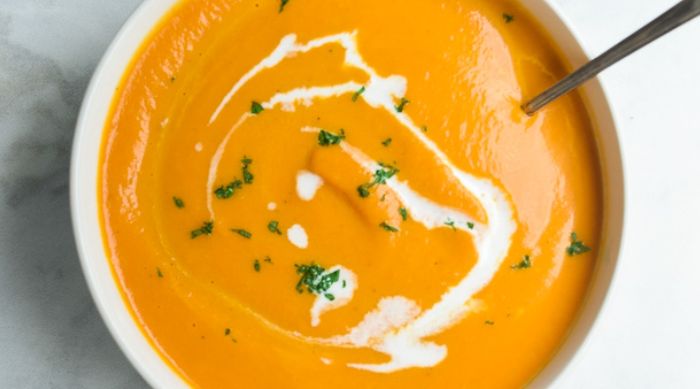 Soups
Soup recipes are perfect if you're hosting in a cold climate. These options are delicious as sides or healthy starters.
Pumpkin Soup: Your Instant Pot or slow cooker does most of the work in this dairy-free soup.
Cauliflower Soup: Fresh, simple ingredients come together in a soup that's creamy without the dairy.
Spinach and Leek Soup: If you're in need of a detox, this antioxidant-rich soup is the perfect day-after remedy.
Carrot + Butternut Squash Soup: This cozy soup looks and tastes just like fall.
Dairy-Free Cream of Mushroom Soup: You won't miss the milk in this one thanks to paleo-friendly nut butter.
Celeriac + Pear Soup: Get to know underrated celeriac, or celery root, in this delicate soup.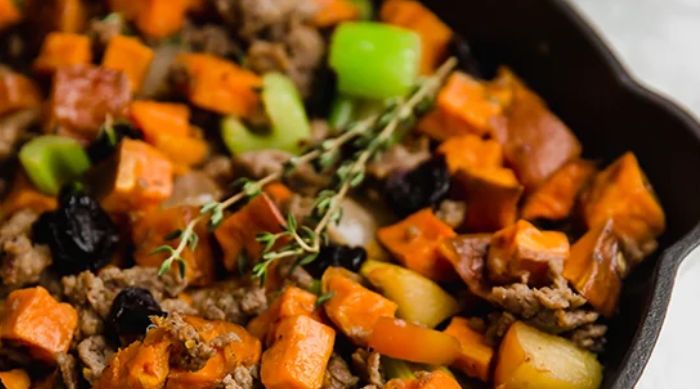 Sides
Thanksgiving sides are the most popular holiday food for a reason. Classic options can get indulgent, but there are healthy Thanksgiving side dishes to add to your holiday table.
What are some healthy sides for Thanksgiving? Some healthy sides for Thanksgiving include grain-free stuffings, cauliflower mash, and veg-heavy gratins.
Sweet Potato + Sausage Stuffing: This is the perfect sweet potato recipe and stovetop meal even outside of Thanksgiving.
Paleo Biscuits: These biscuits are a dairy-free and low-carb way to sop up your healthier gravy.
Paleo Herb + Onion Biscuits: Minced olives and a blend of fresh herbs elevate this comfort food.
Roasted Butternut Squash with Bacon: You won't miss the sweet potato casserole with this paleo-friendly side dish.
Cinnamon Apple Cranberry Sauce: Keep that processed cranberry sauce in the can. This one is sweetened with all-natural maple syrup.
Paleo Stuffing: This stuffing recipe tastes just like the "real" thing, but it's gluten- and grain-free.
Cauliflower + Parsnip Mash: Trying to limit nightshade vegetables? You won't miss the potatoes in this flavorful mash.
Grain-Free Stuffing: If you're craving a classic stuffing that's still grain-free, this is it!
Paleo Creamed Spinach: Move over, green bean casserole. Coconut cream adds a nutty aftertaste to this comforting side.
Whole 30 Mashed Potatoes: There's controversy over whether white potatoes are truly paleo, but we side with the Paleo Foundation. (They say "Yes!")
Roasted Root Veggies: Keep things simple with perfectly crispy roasted veggies.
Paleo Cornbread Muffins: Ditch the sugar and cornmeal for honey — bonus points if it's raw and local — to replicate that sweet corn flavor.
Low-Carb Cauliflower Stuffing: Versatile, low-carb cauliflower does it again with this savory stuffing.
Vegan Zucchini Gratin: Make your own vegan parmesan "cheese" using just 4 simple ingredients.
Roasted Carrots + Fennel: We like the idea of rainbow carrots in this one to make it more visually striking.
Entrees
It's time for the main event! Keep things classic with low-fat turkey recipes free of FODMAPs or switch up your mains for something a little different.
Stuffed Turkey Breast: You don't need to cook a whole turkey for a smaller party, especially when figs and fresh herbs are involved.
Easy Roast Turkey Breast: A simple turkey breast makes for perfect leftover turkey sandwiches.
Dry Brined Turkey: A moist Thanksgiving turkey starts with a good brine.
Paleo Brined Turkey: The orange in this one helps your kitchen smell amazing, too.
Whole 30 Gravy: Top anything on the Thanksgiving table with this guilt-free, vegan gravy.
Prime Rib: A flavorful roast is a non-traditional addition to your Thanksgiving menu.
Leg of Lamb: Give your immune system boost with the big dose of garlic used in this recipe.
Stuffed Pork Tenderloin: This one is easy to roll and prep well before company arrives.
Grilled Beef Tenderloin: Pair paleo-friendly beef tenderloin with a flavorful sauce of shallots, garlic, and herbs.
Simple Lamb Chops: Simple ingredients like olive oil, citrus, and mint dress up lean, flavorful chops.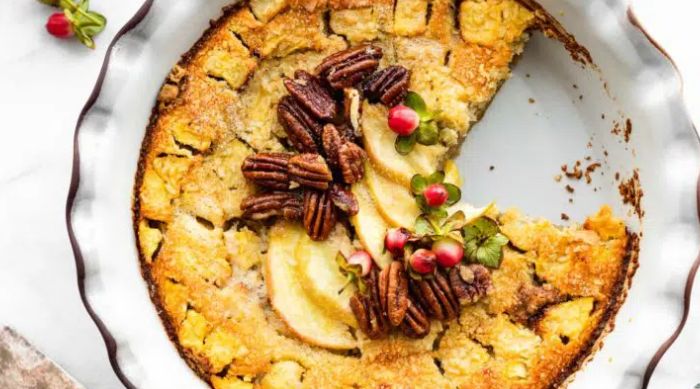 Desserts
It can be hard to stay on track when pumpkin pie recipes are on the menu, but there are healthier ways to go about the sweetest treats.
What is the healthiest Thanksgiving dessert? The healthiest Thanksgiving dessert is low on regular sugar and big on fresh, natural ingredients.
Paleo Apple Pie: This gluten-free crustless pie keeps its structure thanks to a blend of flours.
Poached Pears: Poached pears are a visually stunning end to any meal.
Paleo Pumpkin Rolls: You can have frosting and stay AIP-compliant with these pretty rolls.
Pecan Pie Bars: Pecan pie isn't usually a healthy pick, unless it comes in the form of these crunchy, vegan-friendly bars.
Almond Flour Pie Crust: Lighten up your favorite pie recipes with this gluten-free pie crust.
No Bake Pumpkin Cheesecake: You can have a healthier pumpkin pie this season, no oven required.
Chocolate Avocado Mousse: Curb your chocolate cravings with this light mousse.
Grain-Free Ginger Cookies: These gluten-free treats have the perfect amount of chew and spice.
Paleo Christmas Cookies: It's never too soon to break out the Christmas cookies, especially when they're whole grain- and gluten-free.
Gingerbread Cookies: Bring in the family on this paleo-friendly, gluten-free dessert.
Paleo Chocolate Cake: This gluten-free chocolate cake tastes just as rich and indulgent as traditional recipes.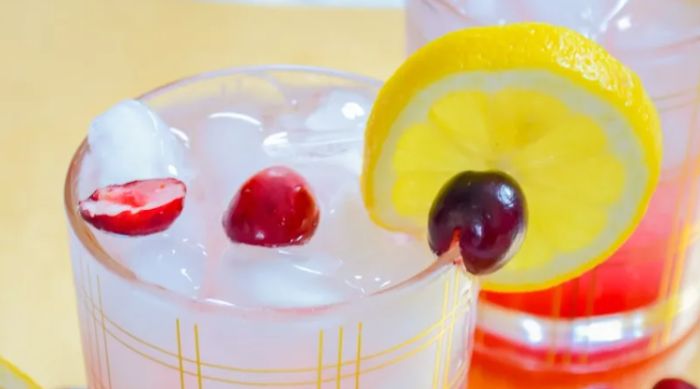 Drinks
You've done the hardest part: Planning a healthier Thanksgiving that doesn't sacrifice for flavor. Keep things going with your cocktail (and mocktail) options, too.
No Sugar Cranberry Mocktail: This keto-friendly spritzer is loaded up with antioxidant-rich ingredients.
Dairy + Sugar-Free Eggnog: It doesn't have to be Christmastime to serve a lighter eggnog.
Paloma Mocktail: Fresh citrus gives you a vitamin C boost with your mocktail.
Rosemary Gin Fizz: Simple, clean ingredients come together for a bubbly, herb-forward cocktail.
Fresh Ginger Moscow Mule: We love this low-calorie cocktail because it uses fresh ginger.
Monk Fruit Margarita: Upgrade your margarita mixes with monk fruit, a natural anti-inflammatory.
If you love wine with your Thanksgiving meal, choose organic wines without added sugars. Here are a few online stores we recommend for healthier wines:
We've shared our favorite mocktails, but if you're serving beer and wine, here are a few more non-alcoholic options:
No holiday drink list would be complete without cocoa! Feel better after your hot cocoa with this vegan version: Dairy + Sugar-Free Hot Chocolate:
Our Favorite Holiday Recipe Books
In need of a little more inspiration for the winter holidays? Check out these recipe books to keep meals healthy and delicious well after Thanksgiving:
At PrimeHealth, we know navigating the holidays can be challenging enough without the added stress of gut issues. That's why we came up with Gut Health Group Visits. We want to give you the community you need to make long-lasting changes for your gut health.Ready to learn more? Contact us today to start the holiday season off right.